Obesity in Pediatrics Virtual Course
Obesity in Pediatrics Virtual Course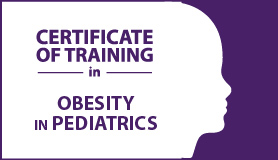 The Certificate of Training in Obesity in Pediatrics focuses on foundational concepts in weight management science and evidence-based practice to build knowledge, skills and competence in pediatric populations.
Click here to review the agenda for the January 26-28, 2021 Course.

These courses are now closed.
This agenda may change without notice.
Courses will also be offered in March and May 2021.
Tuition - $395.00 per person
A group or license option is not available for these courses.
*Late tuition add, $50 after December 1.
Review virtual course requirements and cancellation policy before registering.
To register using a check or purchase order, please click here.
This is a certificate of training course, not certification program. Learn More.