2020 Slate of Candidates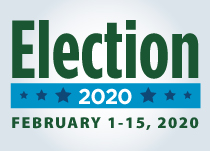 The Commission on Dietetic Registration Nominating Committees is pleased to announce the slate of CDR candidates for the 2020 national ballot, chosen from many excellent nominees.
The Academy's National Campaign Rules have been revised for the 2020 election. Nominating Committee members Eileen Myers and Mary Russell presented a webinar on December 10 to inform members about the changes to the campaign rules and how to take an active role in the election process. For those of you who were unable to attend the live webinar, you may view the recorded session here.
If you haven't done so already, voting in the 2020 CDR National Election has begun and will end February 15. Receive a coupon good for $10 off your next purchase from the eatrightSTORE when you cast your ballot!
CDR Commissioner Candidate profiles can be viewed online.
http://elections.webauthor.com/elections/candidates.cfm
Commission on Dietetic Registration (CDR)
Registered Dietitian Nutritionist (RDN)
Mary Herrstrom, MBA, RDN, LDN (PA)
Mary Beth Ohlms, MEd, RDN, LD (MO)
Christina Rollins, MBA, MS, RDN, LDN, FAND (IL)
Terese Scollard, MBA, RDN, LD, FAND (OR)
Board Certified Specialist in Gerontological Nutrition
Katie Dodd, MS, RDN, CSG, LD, FAND (OR)
Lynn Spalding, MEd, RDN, CSG, FAND (MI)
Advanced Practice Clinical Nutrition Representative
Sara O'Brien, MS, RD-AP, LDN (MA)
Michele Rager, MS, RDN-AP, LDN, FAND (PA