Application for Weight Management SMEs and Facilitators
Application for Weight Management SMEs and Facilitators
Commission on Dietetic Registration
Weight Management Subject Matter Experts and Workshop Facilitators
Instructions for Applying
Application Due Date: August 7, 2017

The Commission on Dietetic Registration is revisioning the certificate programs in adult weight management to create one learner-centered and flexible training that maintains the high standards for rigor and quality that have made it successful for the past 15 years. To achieve this transformation, CDR is seeking subject matter experts (SMEs) and expert facilitators to assist with development of instructional content and adult learning-focused strategies.
This contract work will occur under very tight timelines. It's likely that SMEs will need to commit to 15-20 hours from September through December 2017. Facilitators will likely need to commit to 20-25 hours of development plus 6 days for delivery of face-to-face workshop from late Fall 2017 to late Spring 2018. See below for more details.
Background
Rationale
Over half of American adults are living with overweight or obesity. A dietetics professional, trained to have a comprehensive knowledge of the field and management options, can enable long-term patient compliance and sustained success. This training is being revised to address the evolving competencies of today's and tomorrow's weight management dietetics professionals in ways that support the needs of modern learners.
Vision
To provide the best care for our patients, clients and community, participants will be able to:
Competently deliver weight management services that are patient-centered, evidence-based
Apply weight management competencies to a variety of settings
Engage clients where they live, work and play
Goals
Incorporate relevant weight management Standards of Practice and Standards of Professional Performance (SOPs/SOPPs) into patient/client care.
Describe the complexity of obesity as a chronic disease.
Engage patients/clients to choose their path to personalized lifestyle changes to promote the adoption and maintenance of a healthy weight.
Apply latest evidence-based guidelines in weight management, physical activity, nutrition and behavior change.
Demonstrate adaptability to use skills and knowledge in a variety of settings to increase accessibility to weight management interventions.
Influence the environment where patients/clients live, work and play to promote a healthy weight.
Support continuous learning for weight management treatment and prevention.
Design
Figure 1. CDR Adult Weight Management Certificate of Training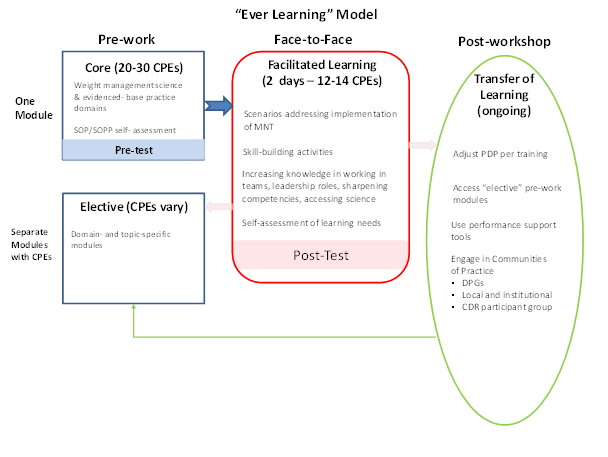 As Shown in Figure 1, there are three distinct phases of training. The required "Core" content of the Pre-work phase focuses on foundational concepts in weight management science and evidence-based practice. Completion is mandatory before attending the face-to-face workshop. The "Elective" pre-work is a set of brief, independent learning modules on weight management-related topics that participants can opt to take prior to or after the face-to-face training depending on personal interest and need.
The face-to-face training will focus on experiential learning activities that require critical thinking and problem-solving as well as skill building in areas such as counseling. Participants will be challenged to continually assess their competencies and needs for future skill development. Finally, post-workshop, participants will be encouraged to develop personal practices for transfer of the learning experienced in the pre-work and face-to-face training.
Click here for the learning goals for the domains that will be addressed in the pre-work and carried forward into the learning activities in the face-to-face session.

Instructional Content Advisors - Roles and Responsibilities
CDR is seeking weight management and dietetics professionals to help with the development and delivery of the instructional strategy outlined in Figure 1. There are two distinct roles, though it's possible that some people can serve in both capacities.

Pre-work Subject Matter Expert
Practitioner and/or researcher who has extensive knowledge, experience, and expertise in a particular domain area. At least five years of experience – and currently practicing – in weight management treatment and/or research as well as domain-related contributions to the scientific literature, expert committee experience, and presentations at national or international meetings. Please select the domain(s) you for which you feel qualified.
The primary tasks of this role may include:
Work with design team to define learning objectives for respective domain area.
Review initial outline and make recommendations for seminal and current research and review papers to support learning.
Review learning content and assessment drafts.
Create learning materials (e.g., Powerpoint, video, study guide, pre-test questions).
Participate in calls and timely (48-hour turnaround) email communications.
Estimated total time commitment (September 15-December 2017) is 15-20 hours depending on specific domain.

Face-to-face Workshop Facilitator
Practitioner or clinician who has extensive experience (5 or more years) in one or more obesity and weight management-related domain areas, is currently practicing in overweight and obesity treatment, and who has a proven ability to facilitate interactive learning activities and experiences such as scenarios, case studies, skill building exercises, and counseling techniques. The Facilitator may also have content expertise and experience in specific areas such as healthcare systems, bariatric surgery, physical activity, counseling, etc. The primary tasks for this role may include:
Identify case examples, use cases, and other realistic situations that support the learning goals for the face-to-face session.
Review and provide input to content and processes developed for scenarios and other realistic interactive learning experiences.
Review and edit post-workshop certificate test questions.
Participate in workshop preparation and rehearsal.
Facilitate learning activities and provide expertise at two-day face-to-face workshops.
Collaborate with other workshop facilitators via regular conference calls and timely (48-hour turnaround) email communications.
Estimated time commitment is:
October 2017-March 2018 – content development and collaboration with facilitation team = 20-25 hours
April 26-27 and May 10-11, 2018 – delivery of face-to-face workshop = 6 days total (3 days per workshop including travel)
Honorarium

CDR will pay an honorarium in accordance to the Academy's honorarium policy and dependent upon work product.
SMEs
To develop a one-hour video presentation which will be used as part of the required pre-work materials - $300
To develop content for the required pre-work - $250 - $500
On-Site Program Facilitators
Range from $500 to $1,000 per day dependent on work product
Airfare, hotel accommodations, transportation expenses and a daily allowance will be provided for on-site program facilitators.

PLEASE NOTE: To avoid conflict of interest, it is the business practice of the Academy to preclude nationally elected and appointed Academy Leaders from initiating a contract with the Academy for services and payment after their term of office begins.
Important Dates
August 7, 2017 – Closing date for applications
September 15 – Selections and notifications completed
September 15 – December 1 – Pre-work Subject Matter Experts work with design team
October 15 – March 15 – Facilitators work with design team
April 2018 and on-going – Facilitators deliver face-to-face training

Content Advisors Application Form

Pre-Course Core and Elective Domains


If you have questions or need assistance, please email them to weightmgmt@eatright.org or contact
Pearlie Johnson-Freeman, MBA
Director, Credentialing Services
Commission on Dietetic Registration
phone: 312-899-4839