CDR Connection, Issue Four
CDR Connection, Issue Four

---
Commission on Dietetic Registration




Chair




Kevin L. Sauer, PhD, RDN, LD




Vice Chair




Coleen Liscano, MS, RDN, CSP, CDN, CNSC, IBCLC




Public Member




Greg J. Rathjen, MBA, PhD





Members




Rebecca Brody, PhD, RD, LD, CNSC




Linda Gigliotti, MS, RD, CDE




Kevin Grzeskowiak, NDTR, FMP




Kathryn G. Hardison, MS, RD, LDN




Linda S. Heller, MS, RD, CSP, CLE, FAND




Khursheed P. Navder, PhD, RDN, FAND




Jessie Pavlinac, MS, RD, CSR, LD




Becky Sulik, RDN, CDE, LD




Beth E Taylor, DCN, RDN-AP, LDN, CNSC, FCCM

Happy New Year! The Commission on Dietetic Registration is pleased to share this fourth edition of its e-newsletter, the CDR Connection: Power Your Future! In this issue we are highlighting CDR CPE opportunities many of which are free, as well as updates on ongoing CDR initiatives. We hope that you find this newsletter informative and helpful!

To view past issues go to cdrnet.org/connection


Kevin Sauer, PhD, RD, LD Chair,
Commission on Dietetic Registration
---
Did You Know?
CDR has sponsored the creation of the following free continuing professional education (CPE) opportunities for RDs and DTRs.
Five topics from the Academy Evidence Analysis Library
Adult Weight Management
Chronic Obstructive Pulmonary Disease
Heart Failure
Hypertension
Unintended Weight Loss
The Academy Evidence Analysis Library® is a synthesis of the best, most relevant nutritional research on important dietetics practice questions in an accessible, online, user-friendly library, utilizing Evidence-Based Practice (EBP):
enhances credibility with other healthcare team members, and
will help you be more effective and efficient in your practice.
For non-Academy member CDR practitioners, you need simply to click the link appearing below to view these topics. The link will take you to a limited-access version of the EAL website. Please note: though every topic will appear to be available, as a non-member you will only be able to access the following topics: Adult Weight Management, Chronic Obstructive Pulmonary Disease, Heart Failure, Hypertension, & Unintended Weight Loss. As well, you will want to refrain from clicking the EAL logo as it will have the unintended effect of logging you out.

Sign in Here to Access the Library's CDR-Sponsored Topics.

(If you are an Academy member please click here to have full access to all of the Evidence Analysis Library topics.)
Online Dietetics Preceptor Training Course
Earn eight (8) free CPE hours CDR by completing the CDR Online Dietetics Preceptor Training module. Topics include:
Preparing for your role as preceptor
Planning for student learning
Facilitating student learning
Assessing student learning
Communicating effectively
Keeping current
Assessing Prior Learning
This new online course is designed to assist dietetics educators in assessing the prior learning of prospective students. The course modules are specific to education program type. Four continuing professional education credits will be awarded for completion of the course. To access this program, click here.

—Other CPE Opportunities

CDR's Online Continuing Professional Education Database
CPE Database Search. You may enter one or more search criteria (date, location, topic) to find currently available activities that have been prior approved, or are offered by a CDR accredited provider.

https://www.cdrnet.org/go/and/cdr/cpe_search.cfm

Some continuing professional education providers also offer free continuing professional education activities. Check with the individual provider for the latest information. A list of CDR accredited providers is available by clicking here.
---
---
CDR News Highlights
2017 CDR National Election
This year's CDR National Election begins Wednesday February 1 and runs through February 22nd.
You can view the CDR Commissioner Candidate profiles now and vote electronically starting February 1st by going to: http://elections.webauthor.com/elections/candidates.cfm

If you are not able to vote online, you may request a paper CDR ballot by calling CDR at 800/877-1600 ext. 4749, or by emailing enovak@eatright.org. If you are mailing back a completed CDR paper ballot, please allow at least 5-7 days for mail delivery.
---
Interdisciplinary Obesity and Weight Management Specialist Certification
The CDR Interdisciplinary Specialist Certification in Obesity and Weight Management Practice Audit Task Force including Registered Dietitians, Nurse Practitioners, Physician Assistants, Exercise Physiologists, Licensed Clinical Psychologists and Licensed Clinical Social Workers conducted a practice audit in Fall 2015 with practitioners in each discipline.
The content outline and eligibility requirements are available at the following link https://www.cdrnet.org/interdisciplinary.
The certification eligibility application deadline is February 1, 2017 for the first examination to be administered in March 2017.
---
Practice Competencies Initiative
The CDR Competency Assurance Panel collaborated with the Academy's Quality Management Committee on the development of dietetics practice competencies and performance indicators. These competencies and performance indicators will replace the current learning need codes for the Professional Development Portfolio recertification system in 2015 beginning with new registrants whose registration begins on or after June 2nd, 2015 and current registrants beginning their June 1, 2016 recertification cycle. An article describing the development and validation of the practice competencies was published in the June 2015 Journal of the Academy of Nutrition and Dietetics.
The CDR website has been updated to include a Practice Competencies page, https://www.cdrnet.org/competencies, which includes several practitioner resources including recordings of webinar presentations made during 2015–2016.
CDR has scheduled webinars to introduce CDR credentialed practitioners and students to the new Professional Development Portfolio practice competencies. All webinars will be recorded and placed on the CDR website. Upcoming dates for webinars are:
Feb 22nd 12PM CT
March 23rd 12 PM CT
April 26th 12 PM CT
May 17th 12 PM CT
Registration for these webinars is expected to open 1/23/2017.
For additional information go to
https://www.cdrnet.org/competencies/webinars
.
---
Upcoming Certificate of Training Programs
Certificate of Training in Adult Weight Management Program
March 2–4, 2017 ~ Baltimore, Maryland
June 22–24, 2017 ~ Cincinnati, Ohio
September 29–October 1, 2017 ~ Phoenix, Arizona
October 19–21, 2017 ~ Chicago, Illinois
November 15–17, 2017 ~ Orlando, Florida
For registration information and to view the certificate requirements, timeline, registration deadlines and agenda:
https://www.cdrnet.org/weight-management-adult-program

Certificate of Training in Childhood and Adolescent Weight Management Program
March 23–25, 2017 ~ Hartford, Connecticut
September 7–9, 2017 ~ Memphis, Tennessee
For registration information and to view the certificate requirements, timeline, registration deadlines and agenda:
https://cdrnet.org/weight-management-childhood-adolescent-program

Level 2 Certificate of Training in Adult Weight Management Program
October 19–21, 2017 FNCE® ~ Chicago, Illinois
For registration information and to view the certificate requirements, timeline, registration deadlines and agenda:
https://www.cdrnet.org/weight-management/level2
If you are unable to attend an on-site program, you may wish to consider one of our self-study modules

Adult Weight Management Self-Study Module
For information:
https://cdrnet.org/weight-management/adult-module

Childhood and Adolescent Weight Management Self-Study Module
For information:
https://cdrnet.org/weight-management/childhood-module

Level 2 Adult Weight Management Self-Study Module
For information:
https://www.cdrnet.org/weight-management/level-2-module
---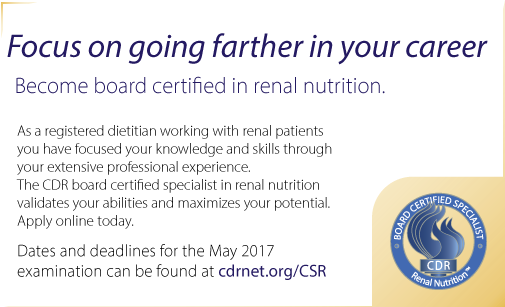 ---
Commission on Dietetic Registration
Staff Contact Information

Christine Reidy, RD, Executive Director


1/800-877-1600, ext 4857





Kay Manger-Hague, Director - Credentialing Operations, ext 4777





Pearlie Johnson-Freeman, MBA - Director, Credentialing Services, ext 4849





Caitlin Griffin - Sr. Manager of Professional Development, ext 4715





Jessica Rapey, RD - Sr. Manager of Professional Assessment, ext 4816





Kim White, RD - Sr. Manager of Professional Assessment, ext 4758





Peggy Anderson - Manager, Registration Eligibility Services, ext 4764

Rebecca Beavers – Manager, Registration Eligibility Services, ext 4781





Elaine Butler - Manager, Examination & Licensure, ext 4859





Rachel Coldewey, MA, Manager, Weight Management Programs, ext 4783





Beth Crowley, RD, Manager, Professional Assessment, ext 4718





Kristen Eis, Manager, Professional Development, ext 1739





Emily Escarra, Manager, Professional Development, ext 4830





Chris Kralik, Manager, Professional Development, ext 1742





Eileen Novak, Manager, Credentialing Operations, ext 4749





Roxanne Way Carter, Manager, Credentialing Services, ext 4849