Essential Practice Competencies Information
Essential Practice Competencies Information
What are the Essential Practice Competencies?
The Commission on Dietetic Registration has developed the
Essential Practice Competencies for CDR Credentialed Nutrition and Dietetics Practitioners
to provide overarching validated standards for two credentials: the Registered Dietitian (RD) or Registered Dietitian Nutritionist (RDN), and the Dietetic Technician, Registered (DTR) or Nutrition and Dietetics Technician, Registered (NDTR). Practice competencies define the knowledge, skill, judgment and attitude requirements throughout a practitioner's career, across practice, and within focus areas. Competencies provide a structured guide to help identify, evaluate, and develop the behaviors required for continuing competence.
Unlike entry-level competencies, which focus on preparation and evaluation for minimum competence upon completion of an ACEND (Accreditation Council for Education in Nutrition and Dietetics) education program, the essential practice competencies are intended for use throughout a nutrition and dietetics practitioner's career.
Purpose and Application of the Competencies
There is an expectation that competencies will be used by the dietetics profession to:
identify learning needs;
guide continuing professional development and ongoing competence;
assist in career progression and professional development; and to
communicate the role and competence of the profession to stakeholders (i.e. employers, external accreditation bodies, the public, etc.).
CDR will implement these essential practice competencies into its
Professional Development Portfolio
recertification system soon!
How and When Will Competencies Affect Me?
The first CDR-credentialed RDNs and NDTRs who will use competencies in their Professional Development Portfolio recertification process will be those whose recertification cycles expire May 31, 2021. This includes two groups of people:
Practitioners who are newly credentialed between June 2nd, 2015 and May 31, 2016.
Practitioners beginning new recertification cycles June 1st, 2016.
Learning Plans will be created through use of CDR's new Goal Wizard, a tool currently in development which will help users identify and create a Learning Plan by guiding them through a series of questions about their goals, as well as their current and past professional roles and responsibilities. CDR will be holding a session about the Goal Wizard at FNCE (a recording of which will be available on this page soon!), and will be hosting focus groups to evaluate and improve user experience in order to make this new tool as friendly and effective as possible.
What Do the Competencies Look Like?
The functional framework the competencies comprises four hierarchy levels: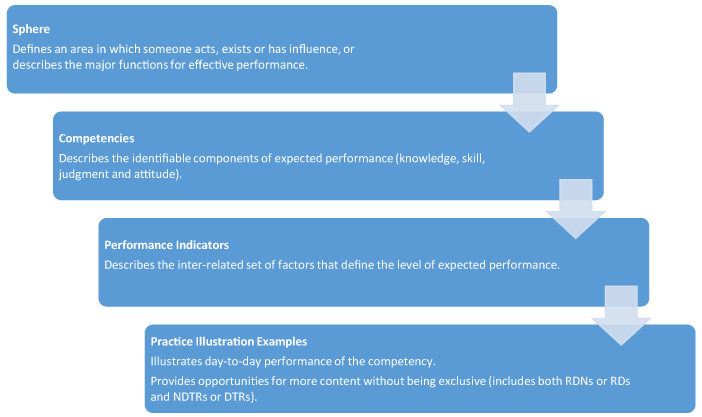 Essential Practice Competencies
There are 14 spheres, 55 practice competencies for RDNs (50 for NDTRs), and 352 performance indicators for RDNs (271 performance indicators for NDTRs). These essential practice competencies are:
Broad enough to encompass the range of activities within the profession (e.g., clinical care, management, food services, research, education, etc.), and to recognize that RDNs and NDTRs assume many unique roles (e.g., marketing for a food manufacturer, informatics for a health system, etc.).
Descriptive of the different practice roles between the RDN and NDTR credentials.
Applicable to all credentialed nutrition and dietetics practitioners
Core Essential Practice Competencies
The core essential practice competencies describe the knowledge, skills, judgment and attitudes that apply to all credentialed practitioners regardless of role, area of practice, or setting.
Sphere 1: Ethics and Professionalism
Sphere 2: Communications
Sphere 3: Leadership and Advocacy
Sphere 4: Critical Thinking and Decision Making
Sphere 5: Informatics
Sphere 6: Research, Evidence-Informed Practice and Quality Improvement
Sphere 7: Safety and Risk Management
Sphere 8: Food, Nutrition and Dietetics and Physical Activity
Sphere 9: Education and Counseling
Functional Essential Practice Competencies
The functional essential practice competencies describe the role-specific knowledge, skills, judgment and attitudes needed for a particular practice focus.
Sphere 10: Clinical Care
Sphere 11: Business, Industry and Product Development and Marketing
Sphere 12: Community and Population Health
Sphere 13: Foodservice Management
Sphere 14: Organization Management
How Were These Competencies Developed?
A more complete summary of the development process for the essential practice competencies can be found in the introduction to the
Essential Practice Competencies for CDR Credentialed Nutrition and Dietetics Practitioners
.
When and Where Can I See the Competencies Themselves?
As CDR integrates the competencies into its PDP recertification process, the competencies will be displayed in conjunction with the
Professional Development Portfolio Guide.
However, CDR is proud to present the competencies now, in full. Just click below!

How Can I Learn More?
CDR will update this page as we continues to implement the competencies, so visit us regularly for news, videos, resources, and more. In addition, please read our
competencies FAQ
and, if that doesn't answer your questions, please email CDR at
cdr@eatright.org
or at
competencies@eatright.org
.
Resources
Frequently Asked Questions
FNCE 2013 Competencies Session
FNCE 2014 Competencies Sessions (Coming soon!)
*Please note the RDN and RD are two credential designation options for one certification program. Practitioners may choose to use one or the other. For more information, click
here
.
**Please note the NDTR and DTR are two credential designation options for one certification program. Practitioners may choose to use one or the other. For more information, click
here
.