Obesity in Adults Virtual Course
Obesity in Adults Virtual Course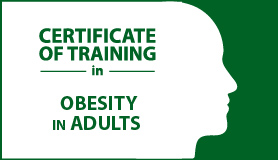 The Certificate of Training in Obesity in Adults focuses on foundational concepts in weight management science and evidence-based practice to build knowledge, skills and competence in adult weight management.
Click here to review the agenda for the January 26, 27, 29, 2021 Course.

These courses are now closed.
This agenda may change without notice.
Courses will also be offered in March and May 2021.
Tuition - $395.00 per person
A group or license option is not available for these courses.
*Late tuition add, $50 after December 1.
Review virtual course requirements and cancellation policy before registering

To register using a check or purchase order, please click here.
This is a certificate of training course, not certification program. Learn More.
Page Updated - January 7, 2021