Certificate of Training in Obesity Interventions for Adults
Certificate of Training in Obesity Interventions for Adults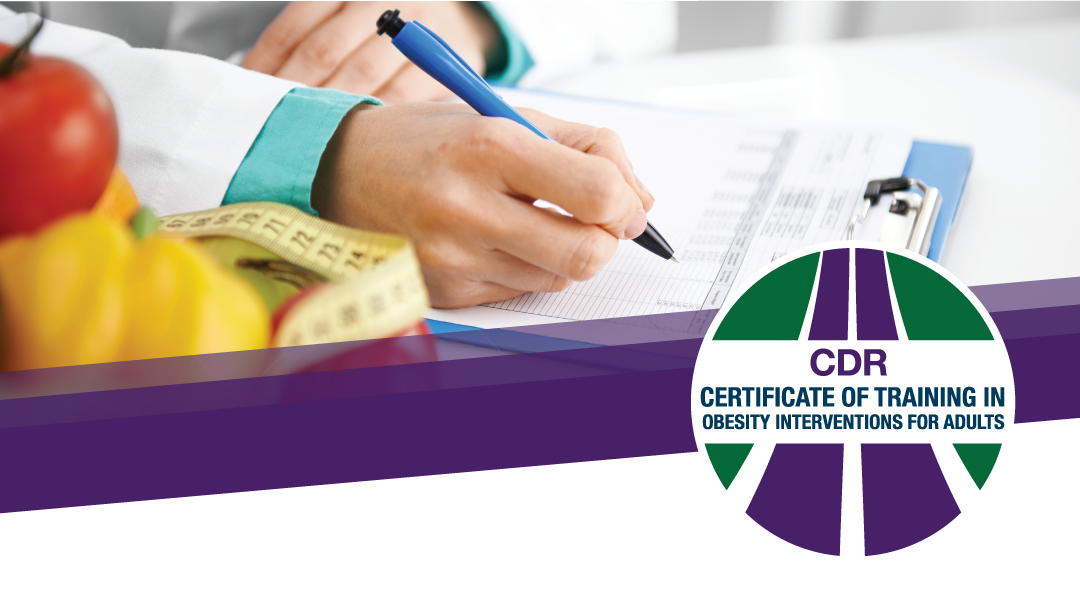 Prepare, expand and enhance with CDR's new obesity interventions training program featuring interactive sessions and evidence-based techniques.

Before proceeding, take a few minutes to review the FAQ.

The Certificate of Training in Obesity Interventions for Adults has been designed to create an adaptive, application-focused experience for the attendees while maintaining the high standards for rigor and quality of all CDR programs. Click here to learn more.

This is a certificate of training program, not a credential. Learn More.

Prepare yourself to better assist your clients in their weight management journey.

Expand your leadership knowledge to help advance your weight management practice.

Enhance your knowledge in the evolving climate of weight management strategies.
Upcoming Programs

---

After careful consideration of the evolving COVID-19 situation, we have made the decision to cancel the May 14-15, 2020 program. Program registrants will be issued a full refund within the next five business days. If you have any questions, please contact Elaine Bulter at 312/899-4718 or

ebutler@eatright.org

.

Click here for registration information for the "New"

Certificate of Training in Obesity in Pediatrics and Adults Collaborative Learning Sessions that are scheduled for

June 24-26, 2020 in Portland Oregon.

If you are looking for obesity interventions related continuing education activities that you can complete in the comfort of your home, please consider the following self-study products.

Certificate of Training Format

---

The new training will have three distinct phases:

Required successful completion of pre-work materials and assessment test that will prepare you for the face-to-face workshop, focusing on foundational concepts in weight management science and evidence-based practice.
The face-to-face workshop will focus on experiential learning activities and will develop your critical thinking and problem-solving skill set. Successful completion of a take-home post-test is required to earn your certificate.
Post-workshop, participants will have the option to develop personal practices to enhance the knowledge gained from the pre-work materials and face-to-face workshop into every day practice.

Requirements for Program Registration

---

This program is only open to:

CDR credentialed practitioners—RDs and DTRs.
Active, Student, International and Retired category members of the Academy of Nutrition and Dietetics.

Program registrations will not be processed until these requirements have been verified.

Additional Program Information

---

Historical Program Information

---

The Certificate of Training in Adult Weight Management and the Level Certificate of Training in Adult Weight Programs have been discontinued.

A total for14,663 participants have been awarded the Certificate of Training in Adult Weight Management from April 2001 until December 2017. Click here for a list of recipients.
A total of 1,276 participants have been awarded the Level 2 Certificate of Training in Adult Weight Management form May 2010 until October 2017. Click

here

to view the recipients.