Certificate of Training in Obesity Interventions for Adults
Certificate of Training in Obesity Interventions for Adults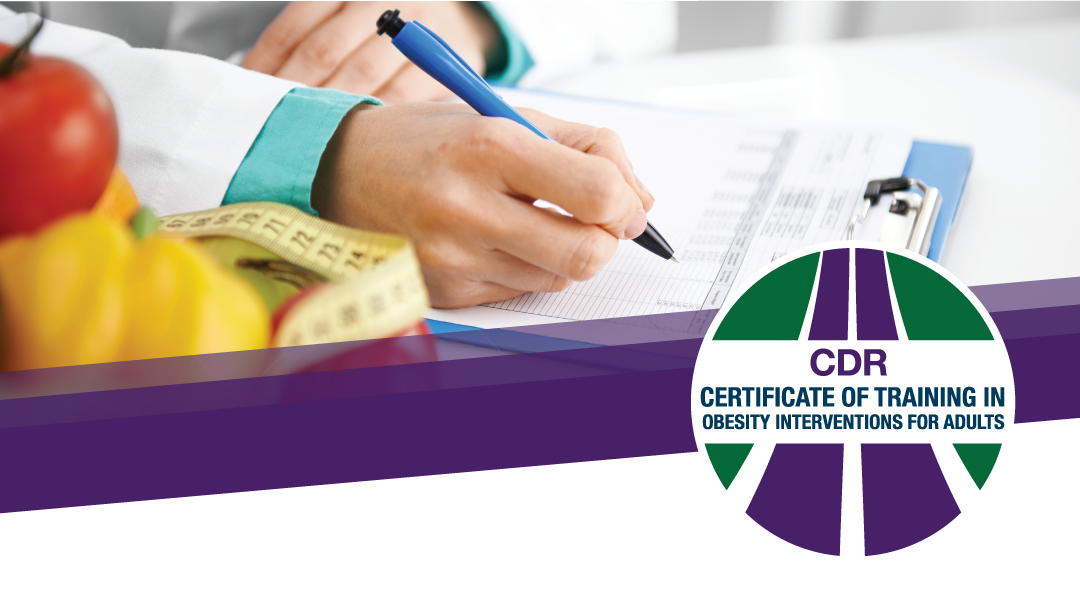 CDR introduces a new
Certificate of Training in
Obesity Interventions for Adults
Register for one of our 2018 Pilot Programs for just $370.*
Register Soon! Only 200 seats available per program.
*Program fees will increase after the pilot concludes
Prepare, expand and enhance with CDR's new comprehensive obesity interventions training program featuring interactive sessions and evidence-based techniques.

The Certificate of Training in Obesity Interventions for Adults has been designed to create an adaptive, application-focused experience for the attendees while maintaining the high standards for rigor and quality of all CDR programs. Learn More


Prepare yourself to better assist your clients in their
weight management journey.

Expand your leadership knowledge to help advance
your weight management practice.

Enhabce your knowledge in the evolving climate of
weight management strategies.

Participants will receive 14 CPE hours for the face-to-face training. Additional hours for the pre-work will be awarded at the conclusion of the pilot phase.



The new training will have three distinct phases:

Required successful completion of pre-work materials and assessment test that will prepare you for the face-to-face training, focusing on foundational concepts in weight management science and evidence-based practice.
The face-to-face training will focus on experiential learning activities and will develop your critical thinking and problem-solving skillset. Successful completion of a take-home post-test is required to earn your certificate.
Post-workshop, participants will have the option to develop personal practices to enhance the knowledge gained from the pre-work materials and face-to-face training into every day practice.

Steps to earn the certificate:

Register for a certificate program.

Read pre-work materials which include research articles, resources and activities.

Pass multiple choice pre-test with a minimum score of 80%. The questions are based on the pre-work readings. You may retake the pre-test as often as necessary to obtain a passing score.

Attend a 2 day on-site workshop where you can learn and network with peers.

Pass a take-home multiple choice post-test with a minimum score of 80%. The questions are based on the on-site presentations and pre-work readings. Individuals who do not pass the post-test will be awarded the CPE hours but not the certificate. This test can only be taken ONE time.

2018 PROGRAMS

April 26-27, 2018
Wyndham Virginia Beach Oceanfront
Plan Your Trip to Virginia Beach
Virginia Beach, VA
Tentative Agenda
Seats are still available. Please call 1/800-877-1600 ext 4783

May 10-11, 2018
Flamingo Las Vegas
Plan Your Trip to Las Vegas
Las Vegas, NV
Tentative Agenda
Registration Deadline: April 23, 2018
To reserve a room at the Flamingo, click the following link:
https://aws.passkey.com/go/SFCTA8


To register for these programs
- Online Registration
- Download Brochure
- Call 1/800-877-1600 ext 4783 to register

Registration Fee: $370.00**


**A $75.00 administration processing fee will be required for all cancellations and transfers. An additional fee may apply if the pre-work materials and pre-test have been completed.

The Certificate of Training in Adult Weight Management program is a training program, not a certification program. Learn More

This certificate program is only open to Active, Student, International and Retired category members of the Academy of Nutrition and Dietetics and CDR credentialed practitioners — RDN™* RD™*, NDTR™** DTR™**. Program registrations will not be processed until these requirements have been verified.