Certificate of Training in Obesity Interventions for Adults
Certificate of Training in Obesity Interventions for Adults
The new "Certificate of Training in Obesity Interventions for Adults" is based on an ever-learning model in which RDs and DTRs are supported in upgrading their competencies in adult weight management treatment and prevention. The model has three distinct phases of training:
Required successful completion of pre-work materials and assessment test that will prepare you for the face-to-face workshop, focusing on foundational concepts in weight management science and evidence-based practice.
The face-to-face workshop will focus on experiential learning activities and will develop your critical thinking and problem-solving skill set. Successful completion of a take-home post-test is required to earn your certificate.
Post-workshop, participants will have the option to develop personal practices to enhance the knowledge gained from the pre-work materials and face-to-face workshop into every day practice.
Be sure to review the FAQ to learn more about the Certificate of Training in Obesity Interventions of Adults.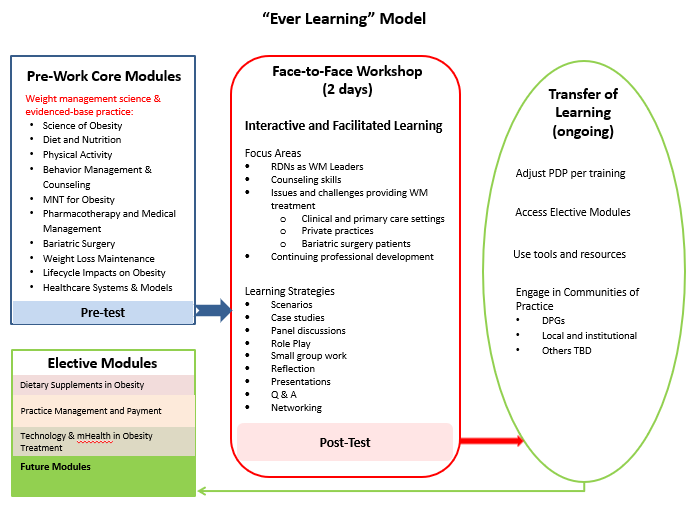 ​​​​​​​
---
Pre-work Modules
Learners will acquire foundational knowledge through readings, videos, case studies, worksheets, and quizzes. The modules are online and self-paced. Learners must complete the ten core modules (estimated 38 CPE hours) and pass a multiple-choice test before attending the face-to-face workshop.

Core (required)
Science of Obesity
Diet and Nutrition in Overweight and Obesity
The Role of Physical Activity in Weight Management
Obesity Management though Adult Life Stages Module
Behavioral Modification and Counseling
Medical Nutrition Therapy in Obesity
Pharmacotherapy and Medical Complications of Overweight and Obesity
Nutritional Care of the Bariatric Surgery Patient
Weight Loss Maintenance
Healthcare Systems
Face-to-Face Workshop

Learners will be challenged to apply foundational knowledge through two days of highly interactive, skill-focused and scenario-type activities. A sample agenda (subject to change) is provided below. A certificate of training will be issued upon successful completion of the workshop post-test. Fourteen CPE hours will be awarded for the two-day face-to-face workshop.

Tentative Agenda

Day One
Time*
Topic
8:00-8:15
Welcome and Orientation

8:15-9:15
Keynote Address

9:15-9:30
Movement Break

9:30-11:45
Counseling and Behavior Management

Presentation and Practice

11:45-1:15
Lunch on own

1:15-2:45
Counseling and Behavior Management (cont'd)

Presentation and Practice

2:45-3:00
Movement Break

3:00-4:15
Health Systems and Weight Management Leadership

4:15-4:30
Wrap up of Day One


Day Two
| | |
| --- | --- |
| Time | Topic |
| 7:00-8:00 | Breakfast |
| 8:00-10:15 | Obesity Interventions through Adult Life Transitions |
| 10:15-10:30 | Movement Break |
| 10:30-12:00 | Obesity Interventions through Adult Life Transitions (cont'd) |
| 12:00-12:15 | Q&A |
| 12:15-1:30 | Lunch on own and movement session |
| 1:30-3:00 | Navigation Challenges, Health Literacy, Weight Bias, and Fads |
| 3:00-3:15 | Movement break |
| 3:15-3:45 | General Q&A with Facilitators |
| 3:45-4:00 | Wrap-up |

Significant time will be devoted to counseling skills as well as cases studies addressing commonly seen issues in providing weight management MNT in clinical, private practice, bariatric, and primary care settings. The workshop will include sessions that inspire and support personal reflection for weight management self-learning and leadership.
Self-Study Modules
Learners will have the option purchase self-study modules prior to as well as after the workshop for an additional fee. These modules will be available at a discounted cost of $25.00 to program participants. Purchase instructions will be provided onsite. Click here for further information about the self-study modules.

Module Options
Dietary Supplements in Overweight and Obesity (3 CPEs)
Practice Management & Reimbursement (3 CPEs)
Technology, mHealth and Telehealth in Weight Management Practice (4 CPEs)
---
Training Learning Goals
Pre-Work
Participants will be able to:
Science of Obesity
Understand the physiologic and metabolic consequences of visceral adiposity in overweight and obesity.

Recognize the functions of adipose tissue as an endocrine organ and the metabolic implications.

Understand liver fat as one of the major sites of visceral fat.

Become familiar with the terms adipocytes, cytokines, adipokines, and their respective metabolic consequences observed in overweight and obesity.

Understand genetic imprinting and intrauterine environment and the impact on rates of obesity.

Recognize the various hormones that regulate hunger and satiety and their roles in affecting appetite and body weight regulation.

Describe physiological and metabolic changes associated with a weight loss, understand causes of a weight loss plateau, and potential causes of weight regain.
Diet and Nutrition in Overweight and Obesity
Identify appropriate guidelines for adult weight management.

Identify evidence-based tools for weight management for adults, such as portion control tools, meal replacements, and/or eating frequency.
Physical Activity in Overweight and Obesity
Use current physical activity (PA) public health guidelines and evidence-based recommendations for physical activity in weight management as basis for creating PA interventions for various clients who are overweight or obese.

Implement a complete physical activity assessment.

Summarize RDN and individual scope of practice regarding physical activity interventions for people who are overweight or obese.

Identify ways to stay current in PA research as it relates to obesity prevention and treatment.
Obesity Management through Adult Life Stages
Describe strategies for preventing gestational weight gain.

Describe strategies for preventing adult weight gain.

Describe strategies for preventing advanced age sarcopenic obesity.

Demonstrate how the RDN should modify treatment approaches for patients/clients at different life stages.
Behavior Modification and Counseling
Describe the behavioral skills and techniques used in Behavior Therapy (BT) to help clients modify eating and activity habits

Describe cognitive skills utilized in cognitive behavior therapy (CBT) approach to weight management

Describe the differences between standard BT and CBT and the impact on weight management intervention

Describe the spirit of motivational interviewing

Describe the differences between individual and group counseling

Use the key strategies to successfully facilitate groups

Consider how weight-related behaviors may be influenced by ethnic differences, such as food preferences, symbolic psychosocial meanings of food, food related social roles and interactions and attitudes about physical activity, health and body size.

Consider weight bias and its impact of quality of care.

Assess the boundaries of self-disclosure when working with clients

Exercises professional judgment within limits of her/his professional qualifications as to when to make referrals
Medical Nutrition Therapy in Obesity
Describe the key components for nutrition-focused physical exam for weight management patients/clients.

Define the key elements of the WM Standards of Practice/Standards of Professional Performance (SOP/SOPPs).

Identify appropriate components based on the Nutrition Care Process (NCP).

Identify opportunities using health information technology and clinical quality measures (CQMs).

Identify recommendations for RDN self-disclosure and referral when working with WM patients/clients.

Describe methods for conducting nutrition-related research.

Describe AND's Dietetic Health Informatics Infrastructure (ANDHII).
Pharmacotherapy and Medical Complications of Overweight and Obesity
Recognize pharmacotherapy as an obesity treatment option.

Identify FDA approved weight loss medications.

Utilize Obesity /American Association of Clinical Endocrinologists (AACE) Guidelines to indicate use of pharmacotherapy.
Nutritional Care of the Bariatric Surgery Patient
Describe appropriate applications of bariatric surgery as a treatment option for obesity management

Implement appropriate nutrition-related care for bariatric patients pre- and post-surgery.
Weight Loss Maintenance
Recognize how the physiological and practical underpinnings of obesity treatment differ between the active weight loss phase and the weight loss maintenance phase.

Determine how a RDN can work in an interdisciplinary way to improve long-term weight loss outcomes.

Apply specific strategies to enhance weight loss maintenance success.

Use counseling and behavior change strategies specific to increasing success in weight loss maintenance phase.

Describe primary prevention strategies for obesity for individuals, organizations, and communities.
Healthcare Systems
Describe the key features of healthcare system transformation.

Discuss healthcare initiatives such as the Patient-Centered Medical Home (PCMH), Accountable Care Organizations (ACOs) and the Comprehensive Primary Care Initiative (CPC and CPC+).
Face-to-Face Workshop
Participants will be able to:
Apply understanding of pathophysiology and its impact on patient/client's ability to lose and maintain body weight.

Describe the microbiome and the impact on obesity.

Develop evidence-based recommendations for weight management when developing nutrition diagnoses, prescriptions and plans for diverse patients/clients, focusing on adults.

Personalize nutrition interventions to include data from client assessment, preferences, and stage of weight loss.

Refer as appropriate to other health and fitness professionals based on client needs and interests.

Use appropriate patient centered counseling techniques to help clients to identify barriers and set client-specific goals.

Use appropriate behavioral management techniques for clients based on their needs.

Incorporate culturally appropriate behavior and weight neutral language.

Demonstrate ability to solve common issues and problems that arise in group counseling sessions.

Adapt weight management care plans as needed to optimize patient/client outcomes.

Use appropriate trends/ resources to guide and support weight management treatment decisions and actions.

Use critical thinking to problem-solve nutrition-related issues or concerns that arise during the use of bariatric surgery in obesity treatment.

Adapt the nutrition care plan as appropriate for adults in the weight loss maintenance phase.

Incorporate the weight management SOP/SOPP into weight management care plans.
Click Here to Register Online
Questions or to register by phone: 1-800-877-1600 ext 4760