Professional Development Portfolio Guide with Essential Practice Competencies
Professional Development Portfolio Guide with Essential Practice Competencies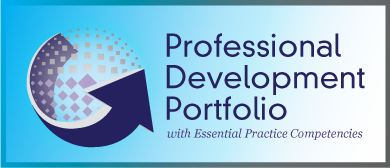 The PDP Guide has been newly optimized exclusively for PDF viewing and use. All links that appear inside are active, including Page links, such as those found in the Table of Contents. The PDP Guide is being shared on this website so that all current and new dietetics practitioners can access it easily.

For Cycles Ending 2026: Click here for the Professional Development Portfolio Guide with Essential Practice Competencies
For Cycles Ending 2025: Click here for the Professional Development Portfolio Guide with Essential Practice Competencies
For Cycles Ending 2024: Click here for the Professional Development Portfolio Guide with Essential Practice Competencies
For Cycles Ending 2023: Click here for the Professional Development Portfolio Guide with Essential Practice Competencies
For Cycles Ending 2022: Click here for the Professional Development Portfolio Guide with Essential Practice Competencies
For Cycles Ending 2021: Click here for the Professional Development Portfolio Guide with Essential Practice Competencies
Click here for the Professional Development Portfolio Appendix
PDP Policy Update: CDR has expanded CPEU limits for activity type 175 (Recorded Pre-approved CE) from 30 CPEUs for RDs, 20 CPEUs for DTRs to 45 CPEUs for RDs and 30 CPEUs for DTRs for all cycles currently active. Starting with cycles beginning June 2, 2021, the maximum CPEUs will return to 30 CPEUs for RDs and 20 for DTRs. Please note that In order for a recording to be eligible for credit, the recorded presentation must have been either pre-approved by CDR for credit when it was presented live or offered by one of CDR's accredited CPE providers. In addition, the recording must be listened to/viewed within 3 years of the original date of the live presentation (e.g., a recording of a presentation given on September 15, 2016, could be viewed for credit through September 14, 2019.)

Dream Wizard: A demo version of the Goal Wizard that will allow you to go through the Goal Wizard process so that you have an idea of how this process helps you develop and submit your Step 1 Learning Plan. Click here to access the Dream Wizard.
The Learning Plan is to be submitted no later than 120 days after completing your first activity on your current 5 year recertification cycle. Please see our 120 Day Calculator to see when you will need to submit your Learning Plan.
Click here for an interactive Flash presentation that explains the PDP Process
Below you will find examples of completed PDP forms. These have been filled out with respect to practitioners of varied career paths, including those not currently employed in the field of dietetics. First we will present three examples of the entire PDP process, then specific examples for each of the five steps.

Comments regarding the Professional Development Portfolio Guide and forms? E-mail cdr@eatright.org.