Professional Development Portfolio Guide with Essential Practice Competencies
Professional Development Portfolio Guide with Essential Practice Competencies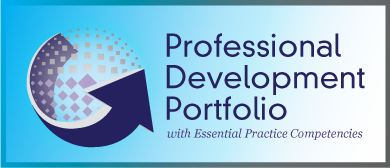 The PDP Guide has been newly optimized exclusively for PDF viewing and use. All links that appear inside are active, including Page links, such as those found in the Table of Contents. The PDP Guide is being shared on this website so that all current and new dietetics practitioners can access it easily.

For Cycles Ending 2026: Click here for the Professional Development Portfolio Guide with Essential Practice Competencies
For Cycles Ending 2025: Click here for the Professional Development Portfolio Guide with Essential Practice Competencies
For Cycles Ending 2024: Click here for the Professional Development Portfolio Guide with Essential Practice Competencies
For Cycles Ending 2023: Click here for the Professional Development Portfolio Guide with Essential Practice Competencies
For Cycles Ending 2022: Click here for the Professional Development Portfolio Guide with Essential Practice Competencies
For Cycles Ending 2021: Click here for the Professional Development Portfolio Guide with Essential Practice Competencies
Click here for the Professional Development Portfolio Appendix
PDP Policy Update:
NEW! Expanded CE Options - Joint Accreditation for Interprofessional Continuing Education

CDR's recently established associate membership with Joint Accreditation for Interprofessional Continuing Education means that RDs and DTRs will have expanded options and opportunities to benefit from high quality continuing education

RDs and DTRs may now source dietetics-related continuing education from any Jointly Accredited Provider regardless of target profession if the learning relates to the Competencies/Performance Indicators (PIs) on one's Step 1 Learning Plan.


NEW! Logging Activities from Jointly Accredited Providers - Use Activity Type 102

CDR has created Activity Type 102 as a means for RDs and DTRs to log completed activities acquired from Jointly Accredited Providers. Jointly Accredited Providers offer activities in various formats that may or may not align with CDRs activity type definitions. Activity Type 102 is to be used regardless of format or type.




Credits are to be claimed based on contact hours. One (60 minute) hour is equivalent to 1 CPEU.




NEW! Quarter Hour (.25) CPEU Credit Counting

Starting August 1, 2020, RDs and DTRs will be able to claim credits in ¼ hour (.25) CPEU designations. When necessary, please round to the nearest quarter-hour. Retroactively adjusting credits completed prior to August 1st is NOT required. Please note that activities are (typically) to be a minimum of one (1) contact hour in length.


CDR has expanded CPEU limits for activity type 175 (Recorded Pre-approved CE) from 30 CPEUs for RDs, 20 CPEUs for DTRs to 45 CPEUs for RDs and 30 CPEUs for DTRs for all cycles currently active. Starting with cycles beginning June 2, 2021, the maximum CPEUs will return to 30 CPEUs for RDs and 20 for DTRs. Please note that In order for a recording to be eligible for credit, the recorded presentation must have been either pre-approved by CDR for credit when it was presented live or offered by one of CDR's accredited CPE providers. In addition, the recording must be listened to/viewed within 3 years of the original date of the live presentation (e.g., a recording of a presentation given on September 15, 2016, could be viewed for credit through September 14, 2019.)




CDR has revised Activity Type 205: Research definition to include the acceptance of Primary Research as outlined in the Evidence Analysis Library. This definition has been updated in the most update to date PDP Guide (2021 - 2026) and applies to all active cycles.




Revised Definition: "Conducting primary research as a sole, principal, or co-investigator can be awarded CPEUs. An investigator is defined as one who participates substantially in the conception and design of the work and the analysis of data as well as in the writing of the report. Primary research as outlined in the Evidence Analysis Library Includes – Randomized Controlled Trials, Cluster Randomized Trial, Randomized Crossover Trial, Prospective Cohort Study, Retrospective Cohort Study, Non-Randomized Controlled Trial, Non-Randomized Crossover Trial, Case-Control Study, Time Series Study, Reliability Study, Non-Controlled Trial, Case Study or Case Series, Other Descriptive Study, Cross-Sectional Study, Trend Study, Before-After Study; systematic reviews with or without meta-analyses are also considered research for this activity type. The research must have been conducted after the investigator has become an RDN or RD, or NDTR or DTR. Research completed to fulfill academic requirements would receive credit as 100: Academic Coursework, while reading reviews designed primarily to summarize the findings of others would receive credit under 200: Professional Reading. However, completing a meta-analysis that identifies new trends or ideas based on data from other studies would be awarded CPEUs in the Research category. Required documentation must be completed within the current recertification cycle to receive credit."


CDR has revised Activity Type 130: Exhibits to expand the maximum CPEUs for virtual exhibits that include interactive experiences, professional materials for review and download, live chat and engagement with vendors to align with current PDP guidelines of 15 CPEUs for RDs and 10 CPEUs for DTRs in a five-year cycle.




CDR has revised Activity Type 180: Posters to include e-poster sessions with the same standards outlined in the PDP Guide as live poster sessions.
Dream Wizard: A demo version of the Goal Wizard that will allow you to go through the Goal Wizard process so that you have an idea of how this process helps you develop and submit your Step 1 Learning Plan. Click here to access the Dream Wizard.
The Learning Plan is to be submitted no later than 120 days after completing your first activity on your current 5 year recertification cycle. Please see our 120 Day Calculator to see when you will need to submit your Learning Plan.
Click here for an interactive Flash presentation that explains the PDP Process
Below you will find examples of completed PDP forms. These have been filled out with respect to practitioners of varied career paths, including those not currently employed in the field of dietetics. First we will present three examples of the entire PDP process, then specific examples for each of the five steps.

Comments regarding the Professional Development Portfolio Guide and forms? E-mail cdr@eatright.org.