Certificate of Training in Obesity Interventions for Adults
Certificate of Training in Obesity Interventions for Adults
April 26-27, 2018
Virginia Beach, VA
Wyndham Virginia Beach Oceanfront
5700 Atlantic Ave.
Virginia Beach, VA 23451
757-428-7025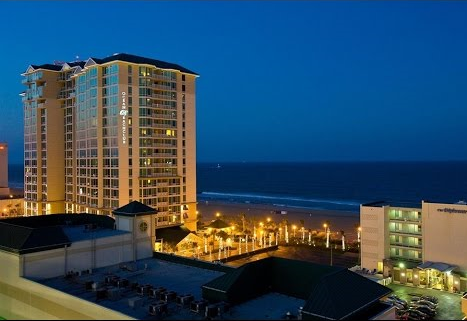 Below is information to help you prepare for your stay in Virginia Beach.
Hotel Information

The April 26-27, 2018 onsite pilot program will be held at the Wyndham Virginia Beach Oceanfront, 5700 Atlantic Ave., Virginia Beach, VA, 23451. A limited number hotel rooms are available at the Wyndham at a rate of $119 single/double for the evenings of April 25 and 26. To make your reservation, please call the Wyndham at 757/428-7025 by Sunday, March 25, 2018.

Program check-in will begin at 7:30 am on Thursday, April 26, 2018. On April 26, the first session will begin at 8:30 am and the last session will end at 5:00 pm. The program will end at 4:00 pm on Friday, April 27, 2018.


Click here to find your way to the Wyndham Virginia Beach Oceanfront Hotel.

Click here to begin planning your trip to Virginia Beach.

Restaurants in the Wyndham Hotel area:

Google Map of the area

To find out about the weather in Indy, select the icon below.





Local Transportation:

Wyndham Virginia Beach Oceanfront Hotel is 16 miles from Norfolk International Airport,

Driving: Start out going west on Norview Ave. Turn left to stay on Norview Ave. Take the 1st right onto Azalea Garden Rd. Turn right onto Heutte Dr. Turn right onto US-60 E/Shore Dr. Continue to follow US-60 E.
Parking: Free
Taxi: $50-60

Shuttle Transportation
James River Transportation shuttle service. Please click here visit their website or call (866) 823-4626.

Taxis
Norfolk International Airport taxis are available. Click here for a list of taxis and their contact information.

Parking
Parking is free at the Wyndham Virginia Beach Oceanfront Hotel.

Local Attractions:

Virginia Aquarium and Marine Science Center 717 General Booth Blvd. - Come explore over 800,000 gallons of one of the best aquariums and animal habitats.

Busch Gardens Williamsburg – 1 Busch Gardens Blvd. - For an action-packed experience, look no further than Busch Gardens. Busch Gardens is a European-themed park with 17th-century charm and 21st-century technology.

Virginia Beach Amusement Park – 15th St. and Atlantic Ave. - Come see what the hype in Virginia Beach is all about! Atlantic Fun Park boasts over 10 Midway Games and 15 Rides!

Adam Thoroughgood House – 1636 Paris Road - Adam Thoroughgood arrived in Virginia in 1621 as an indentured servant and in 1636 was granted a land parcel.