Adult Weight Management Self-Study Module
Adult Weight Management Self-Study Module
The 2016 Adult Weight Management Self-Study Module is now available.

This module addresses the fundamentals of adult weight management. The module has been approved for sixteen (16) CPEUs.
Online Version: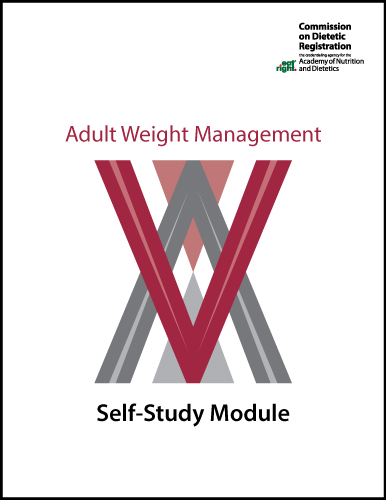 Product Number: 1409E16B
Cost: $69.00 ($4.31 per CPEU)


Paper Version with Complimentary Online Access:
Product Number: 140916
Cost: $89.00 ($5.56 per CPEU)

This module and assessment test fulfill the pre-test requirement for a Certificate of Training in Adult Weight Management program that will be offered between November 1, 2016 and October 31, 2017. To obtain CPEUs, the assessment must be completed and submitted to CDR by October 31, 2018. Click here for a self-study FAQ.
Click here for Self-Study Learning Objectives.

Click here for instructions to log CPEUs.

The self-study modules can be purchased in bulk. Only one RD, RDN, DTR, NDTR will be awarded CPE hours per module. Please contact CDR at 1/800-877-1600 ext 4760 to purchase bulk orders.

Quantity Discount Schedule 0-9 units: No discount 10-99 units: 15% discount

To place an order by telephone with a credit card (American Express, VISA, MasterCard or Discover), call 312-899-0040, Ext 5000 or view purchasing information on the Academy's online catalog. Reference catalog number 1409E16 (online) or 140916B (paper with online access).

*An email will be sent within 48 hours of receipt of your order which will provide instructions to access the complimentary online module. The paper copy will be shipped within five (5) business days.