Cultural Competence for Successful Weight Management Counseling
Cultural Competence for Successful Weight Management Counseling
Gail Frank, DrPH, RD, CHES
Dr. Gail Frank is a Professor of Nutrition and Director of an Academy- accredited Internship Program in Nutrition and Dietetics at California State University Long Beach having graduated 295 RDs into practice. She is a Certified Health Education Specialist (CHES) and trained as a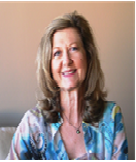 chronic disease Epidemiologist at Tulane University, New Orleans.
Gail had 16 years designing and directing the dietary studies of a bi- racial community of 5,000 children in the Bogalusa Heart Study in Louisiana. She was a Co-Principal Investigator for the NIH 'Women's Health Initiative' (WHI) clinical trial at the University of California, Irvine, using motivational interviewing to promote adherence to the low-fat eating component. In addition, Gail has trained Promotores el Salud, WIC staff, Community Nutrition Educators, Social Workers, Registered Dietitians and Nutrition Students/Interns in Texas, Oklahoma, Pennsylvania and California since 2006.
Gail has been Co-Principal Investigator for two USDA grants:
2007- 2010, Comienzo Sano: Familia Saludable, which focused on healthy eating among the Latino population and included motivational interviewing counseling with Latina moms, and
2011-2016, 'Transdisciplinary Graduate Education and Training for Nutrition and Health Promotion of Latinos'. The project included implementation of culturally-appropriate classes for Latino mothers of overweight children including counseling with motivational interviewing techniques.
Among her professional service activities, Gail was a Media Spokesperson for the Academy for 19 years, was Chair of the Nutrition Research Dietetic Practice Group, was Treasurer of the Women's Health Dietetic Practice Group. She was President of the New Orleans Dietetic Association and has been Chair of the Board of Directors for the American Heart Association in Long Beach, California.
Gail has served as a consultant to several national evaluations, such as USDA's School Breakfast and the School Lunch programs. She developed the nutrition education component of the Diabetes Treatment Center at Tulane University Medical Center in New Orleans.
In 2015, Gail was invited to serve on the "True Health Initiative", a global coalition of leading experts and influencers in nutrition and health. Dr. David Katz is the founder of the coalition whose mission is to eliminate as much as 80% of all lifestyle-related chronic disease through lifestyle as medicine.
Gail received the ACADEMY'S award for 'Excellence in Education and Research' in 1991 and "Excellence in Dietetic Education" in 2008.
She has published or co-authored 123 manuscripts in peer-review journals and is the author of the college textbook, Community Nutrition – Applying Epidemiology to Contemporary Practice.