Environmental Influences on Pediatric Overweight
Environmental Influences on Pediatric Overweight
Dana Gerstein, MPH, RD
Dana received her MPH from the University of California at Berkeley in Public Health Nutrition and Epidemiology. Before moving into the Public Health arena, Dana held a number of specialty clinical positions, both as a renal and cardiac dietitian and an eating disorders specialist.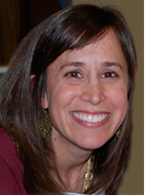 Dana is an Academic Coordinator at the Nutrition Policy Institute at the University of California. She has completed several statewide and national multi-year, multi-methods evaluations of programs, policies and practices related to healthy eating and active living in low-income communities. Dana managed the evaluation of the Academy's Energy Balance for Kids with Play project -- a school- and community-based program designed to create healthier food and physical activity environments. Currently, Dana is working on a study that will identify the best school & community nutrition and physical activity practices associated with improved BMI in children over the past 10 years. She is concurrently evaluating the impact of green spaces on children and communities' health and wellbeing.
Dana has published a number of papers covering the topics: dietary determinants of overweight in children and adults, practices and interventions to prevent overweight, and the family environment and overweight. Her review of the literature on the dietary determinants of overweight was published in 2006 as a book entitled Obesity: Dietary and Developmental influences. Dana currently lives in Evanston, IL with her 3 young children and her vivacious puppy, Berkeley.