School Nutrition
Donna Martin, EdS, RDN, LD, SNS
Don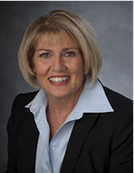 na is currently the Director of the Burke County School Nutrition Program in Waynesboro, Georgia and the President-elect for the Academy of Nutrition and Dietetics. She has worked in the area of School Nutrition for over 25 years in both large systems with over 38,000 students and currently in a small system with 5,000 students. She was the first program in Georgia to fully implement the Dietary Guidelines for children when USDA starting requiring the School Nutrition Programs to meet the guidelines when planning meals. She has been credited with increasing program participation and improving the fund balance in the systems she has worked in. She has always been on the forefront of improving the health of her students by offering nutritionally balanced meals that also teach the students about good nutrition. She is a firm believer that learning to eat right is just another part of the education process.
Donna has a master's degree in clinical nutrition from the University of Alabama in Birmingham and a specialist degree in administration and supervision from Augusta State University in Augusta Georgia.
In 2006 Donna received the Summer Sunshine Award for the Southeast Region of the United States from USDA for innovation in implementing the Summer School Nutrition Program. The county she works in is a very large poor rural county that decided to serve the children over the summer out of school buses that made stops throughout the county. Donna has four schools that received the US Healthier School Challenge Award at the gold level. Donna has met with Michelle Obama in the White House to help with policy relating to healthier school meals for children.