Obesity as Disease – Implications for Dietetics Practice and Pharmacotherapy, Appetite Regulation – Implications for Dietetic Practice
Obesity as Disease – Implications for Dietetics Practice and Pharmacotherapy, Appetite Regulation – Implications for Dietetic Practice
Marc-Andre Cornier, MD
Dr. Cornier has been on faculty at the University of Colorado with the Division of Endocrinology, Metabolism and Diabetes since 2001, where he is currently a Professor of Medicine. Prior to that he received his undergraduate education at Vanderbilt University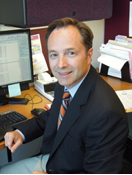 in Nashville, TN where he received a bachelor of science in Biomedical Engineering in 1987. He then attended the Medical College of Georgia in Augusta, GA where he received his medical degree in 1992. He went on to do his medical internship and residency at Georgetown University Medical Center in Washington, DC with the Department of Internal Medicine from 1992 to 1995. He followed this with a fellowship in endocrinology at the University of Colorado Health Sciences Center in Denver, CO which he completed in 1999. Dr. Cornier is currently the Medical Director of the Anschutz Health and Wellness Center Clinics and the My New Weigh meal-replacement weight loss program as well as the Director of the LDL Apheresis Program at University of Colorado Hospital. Dr. Cornier was on staff at Denver Health Medical Center in Denver, CO as a clinical endocrinologist from 1999 to 2016. Dr Cornier is also an active clinical and translational investigator with a primary research interest in understanding the complex regulation of food intake and body weight. Dr Cornier has been an active volunteer in important health-related associations, such as the American Diabetes Association, American Heart Association, Endocrine Society and Obesity Society.
Dr Cornier can be reached at
marc.cornier@ucdenver.edu
.