Nutrition Care Process and Terminology
Nutrition Care Process and Terminology
Nutrition Care Process Overview
The Nutrition Care Process (NCP) is a framework for systematic problem-solving. It is used by nutrition and dietetics professionals to critically think and make decisions when providing safe and effective quality nutrition care. The NCP consists of four distinct, interrelated steps:
Nutrition Assessment and Reassessment
Nutrition Diagnosis
Nutrition Intervention
Nutrition Monitoring and Evaluation
Intended for use in any practice setting, the NCP is not a charting or documentation system. Use of the NCP and its terminology (NCPT) can lead to more efficient and effective care and communications, nutrition research, and greater recognition of nutrition in individual/population health and the role of credentialed nutrition and dietetics practitioners. The NCP facilitates a consistent approach to care and the NCPT provides a worldwide shared understanding and definitions of nutrition assessment/monitoring and evaluation, diagnostic, and intervention concepts.
Through its Nutrition Care Process and Terminology Committee and subcommittees, U.S. and international nutrition and dietetics professionals guide new terminology development and revisions as nutrition practice evolves. The NCPT is global, interoperable, implementable with nearly all concepts mapped and modeled in SNOMED CT®. Some content is also mapped to LOINC®.
Nutrition Care Process Terminology
To clearly document the impact of nutrition on client care, professionals need to have a terminology that is capable of capturing the specifics of the care they provide. Only when the profession can capture nutrition care in a consistent way can these activities be built or coded in electronic health records (EHRs), existing databases, and research projects to identify which elements of nutrition interventions are most important in achieving positive nutrition and health outcomes.
For nutrition care, a common process (the Nutrition Care Process) with a defined and agreed upon international terminology (NCPT) supports critical thinking, clearer and more focused nutrition care, more person-centered care, increased acknowledgement of the value of nutrition care by other health care professionals, and improved application of evidence‐ based guidelines. A free list of common structured terms are available to help meet the needs for the Global Malnutrition Composite Score, documentation in EHRs, and HL7 nutrition standards. Further, unique coding and identifiers for these common nutrition and dietetic terms enhance the ability to integrate the nutrition terminology in larger standardized health terminologies and standards for improved interoperability.

The NCPT is mapped (ie, linked to like concepts) and modeled (ie, computer processable) in two standardized health terminologies:
Logical Observation Identifier Names and Codes (LOINC®)—used by reference labs, healthcare providers, government agencies, insurance companies, software and device manufacturers.

Systematized Nomenclature of Medicine Clinical Terms (SNOMED CT®)—the world's most comprehensive clinical healthcare terminology and accepted as a common global language in over 50 countries.
Collaborations with both LOINC® and SNOMED International, to integrate Nutrition Care Process Terminology into these languages, ensures the availability of coded concepts for clearer and improved communication and data tracking in electronic health records.

The NCPT has been adopted, implemented and enhanced by U.S. and international professionals and organizations, as well as embraced by terminology and health information management standards. Visit the Academy's eNCPT for additional training and subscription information for using the terminology in Electronic Health Record (EHR) or Electronic Medical Record (EMR) systems.
Submissions for new and/or revised NCPT concepts are welcome. Please refer to the Editorial Guidance for NCPT for developing content for the nutrition care process.
Nutrition Care Process Model
The Nutrition Care Process and Model represents nutrition care within the context of nutrition and dietetics practice as a whole, health care, and health care systems. At the center is the interaction between the professional with the individual/population. Entry into the NCP occurs when screening and/or referral occur. NCP outcomes are data aggregated as part of a quality management system to continuously improve nutrition care. One (1) free continuing professional education unit (CPEU) is available for NCP and NCP terminology tutorials.
Use the NCP/NCPT Scorecard for nutrition care process improvement. This self-assessment tool identifies strengths and gaps in NCP/T in individual practice, systems, quality improvement, and/or practice evolution and continuity. Resources to supplement the NCP/NCPT Scorecard may be helpful for it.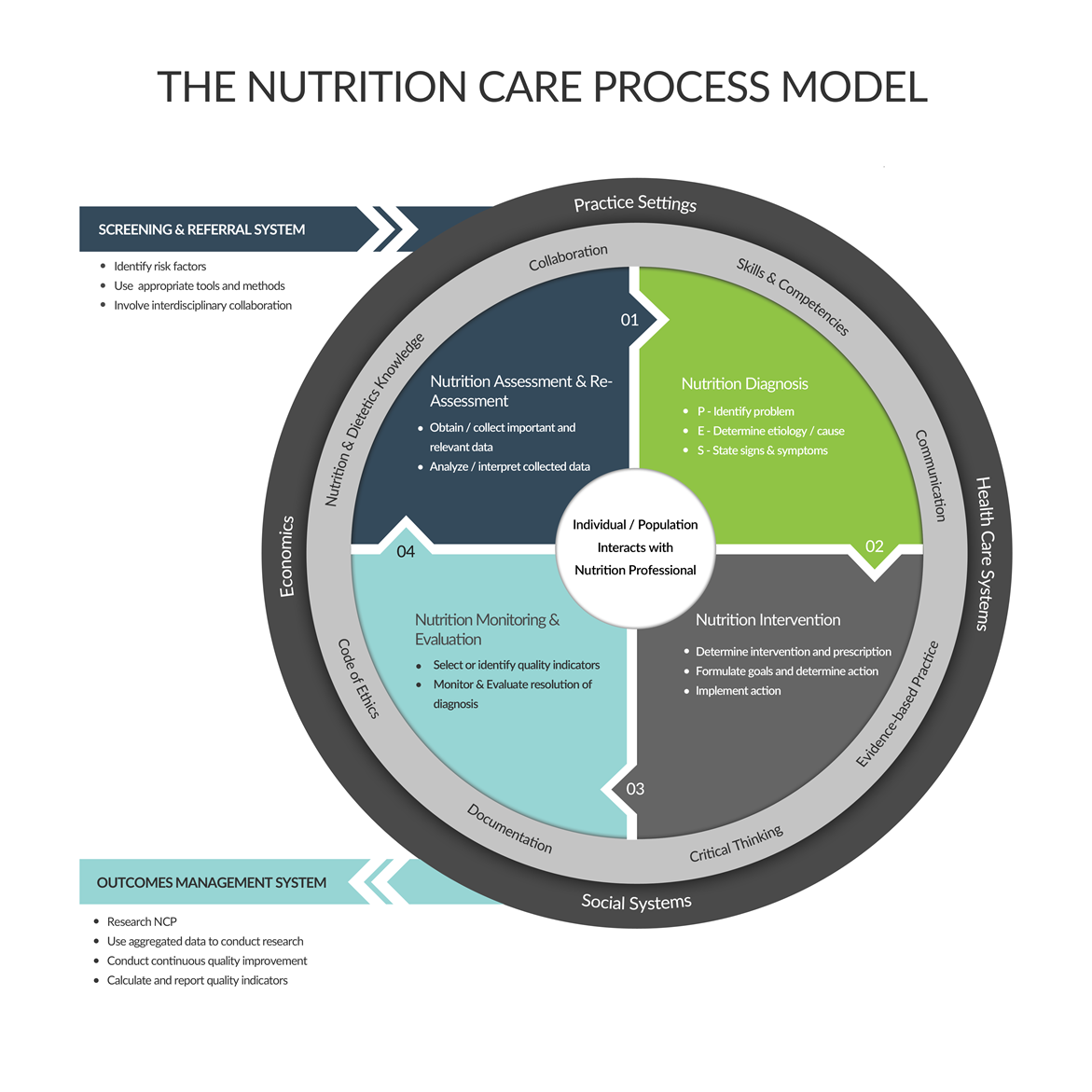 Additional Resources to Support How to Demonstrate Quality Nutrition Care
Global Malnutrition Composite Score (GMCS)

NCP/NCPT Scorecard: A self-assessment tool for individuals and organizations

,

Resources

for using the NCP/NCPT Scorecard

Nutrition Care Process and Terminology, eNCPT (ncpro.org) (sign-in required)
Academy of Nutrition and Dietetics' Health Informatics Infrastructure (ANDHII) (sign-in required)
Current NCP and NCPT Publications

Swan WI, Vivanti A, Hakel-Smith NA, et al. Nutrition care process and model update: Toward realizing people-centered care and outcomes management. J Acad Nutr Diet. Dec 2017;117(12):2003-2014. doi:10.1016/j.jand.2017.07.015 (sign-in required)
Swan WI, Pertel DG, Hotson B, et al. Nutrition care process (NCP) update part 2: Developing and using the NCP terminology to demonstrate efficacy of nutrition care and related outcomes. J Acad Nutr Diet. 2019;119(5):840-855. doi:10.1016/j.jand.2018.10.025 (sign-in required)
Back to top ^